Calendar
Weddings
Please contact Bryan directly about wedding arrangements. The gardens can accommodate multiple weddings.
Art Festivals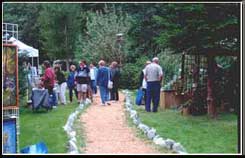 Kitty Coleman Woodland Gardens provides a unique setting for an outdoor show. Located just off the Old Island Highway north of Courtenay in the beautiful Comox Valley. The Gardens are a popular attraction and have won international acclaim.
Please visit our Art Festivals page for detailed information for exhibitors. If you are interested in exhibiting, please complete and submit the application form.
The Annual Art & Bloom Festival
Victoria Day Weekend (3rd weekend of May)
Open Saturday & Sunday: 10am – 5pm; Monday: 10am – 4pm
May 18 – 20, 2019
The Annual Art & Bloom Festival is focused on presenting a limited variety of art forms. Emphasis will be placed on original works by painters, potters, sculptors, glass blowers, original stained glass designers, garden art and other unique art forms.
The Artisans' Festival
Labour Day Weekend (1st weekend of September)
Open Saturday & Sunday: 10am - 5pm; Monday: 10am – 4pm
Aug 31 - Sept 2, 2019
The Annual Artisans' Festival – held the September Labour Day Weekend – is focused on presenting high quality original works ... pottery, fine art, ceramics, carvings, furniture, weaving, jewellery, wrought iron, glass are just a few of the many works that are eligible.
Kitty Coleman Woodland Garden
Christmas Events 2019 Carol walks with Cantiamo Chamber Ensemble
Dates: December 22nd & 23rd
7:00 pm - 9:00 pm
Admission: $10.00
Santa's Barn
Visits with Santa
Dates: December 7-8; 14-15; 20-21-22-23
11:00 am – 4:00 pm
Garden Lights & Santa's Barn
Every night, 5:00 pm – 9:00 pm
Dates: December 1 - January 1