Testimonials
What our Visitors say
We visited your garden this weekend. What an extraordinary accomplishment, and gift to all of us. I hope you find a buyer who reveres the land and honours its potential as much as you have done. All I can say is thank you.
Dropped into the Art and Bloom Festival on the May long weekend. The gardens and artists were very enjoyable.

Jeff Shields
KITTY COLEMAN WOODLAND GARDENS PRESENTS
Sunday Afternoon Concert

Concert Line up

August 21 - Tailgate Country Rock Band

AUGUST 29 - Lunchbox Legends - An Eclectic Mix Of Blues Gypsy Groove Latin And Jazz

SEPTEMBER 11TH - Completely Creedence - A Tribute To The Music Of Ccr

Adm. $20
Includes Entrance To The Gardens
BRING YOUR OWN CHAIRS & REFRESHMENTS
250-338-6901
Upcoming Shows in the Garden
Woodland Gardens Summer Show Fine Art & Quality Crafts
July 31- August 2nd, 2021
10.am-5.pm Saturday & Sunday
10.am-4-pm Monday
Admission: $10.00
Woodland Gardens Labour Day Weekend Show
September 4-5-6, 2021
10.am-5.pm Saturday & Sunday
10.am-4-pm Monday
Admission: $10.00 at the gate
---
If you are interested in exhibiting, please complete and submit the
application form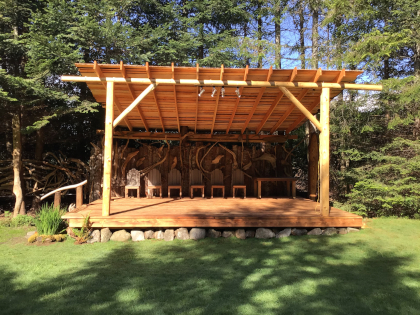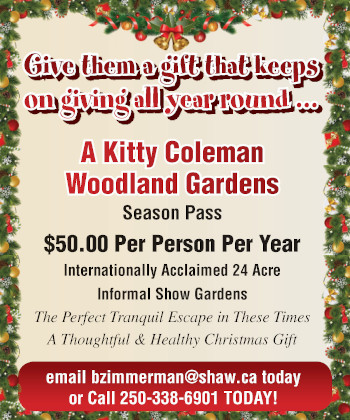 Give them a gift that keeps on giving all year round …
Kitty Coleman Woodland Gardens
Season Pass
$50.00 Per Person Per Year
Internationally Acclaimed 24 Acre Informal Show Gardens
The Perfect Tranquil Escape In These Times
A Thoughtful & Healthy Christmas Gift
Email bzimmerman@shaw.ca or Call 250-338-6901 TODAY!